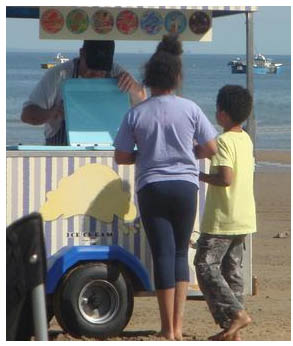 Louise and Jake are sister and brother who were adopted together five years ago. They share their thoughts and feelings about being adopted and their adoptive family…
Louise
My name is Louise and I am 11, nearly 12 years old. I like playing with my dolls and my Littlest Pet Shop animals. I like dancing and reading. My favourite book is Lily Alone, by Jacqueline Wilson. When my mummy used to read me lots of bedtime stories, my favourites were Six Dinner Sid and The Tiger Who Came to Tea. I am good at trampolining and swimming, and I have got my 800m badge. I've just moved up to secondary school and I was a bit nervous about it, but it's not as bad as I thought. I've made new friends and I can find my way around the school, which I was worried about. There is a lot of homework so that's quite annoying. Some of my new friends are really good fun and I like walking to school.
I feel much better about being adopted now than I did because I've got a family. But it can be awkward sometimes at school when everybody else isn't adopted and you can feel left out. I am glad I was adopted with my brother as I don't want to be an only child at home. It's good that you have each other so if you don't feel settled they might feel the same and you can talk about it. When I met my mummy and daddy I was a bit shy, I can't remember many of my feelings from then. It feels a bit scary sometimes that I have only been here five years but I am nearly 12 years old. The best thing about my daddy is that he is funny and is into music. The best thing about being adopted is that you have a proper family to look after you. My mummy kept saying "no, we can't have a guinea pig" but now we have two of them!
Jake
My name is Jake and I am nine years old. I love cycling and football. I like running and playing on the computer. My favourite food is chicken nuggets and chips and my favourite pudding is meringue. I like Nerf guns. I was adopted when I was nearly four years old. My sister was adopted with me. Being adopted is exciting because you get a new mummy and daddy and you get to make new friends. When I moved in to my new house it felt cool. I liked getting new toys, meeting our neighbours. We have two cats and I like playing with them. I liked my foster carer, she was a good friend and took me to lots of parks. I feel fantastic about being adopted because my mummy and daddy help me to learn and take me on nice holidays, like to Wales and Disneyland Paris.
I was at one primary school but I wasn't happy so my mummy and daddy found a new school which is much better. I have lots of friends and at school I like playing football, being in plays and singing at the O2, which I have done twice. We do fun things in science and I like cooking at school too. I am lucky that my sister was adopted with me. I want a brother but I only have a sister. Sometimes my mummy and daddy find it hard looking after us but they tell us all the time that they love us very much. The best thing about my daddy is he takes care of me and takes me on good cycle rides and he loves me a lot. The best thing about my mummy is that she loves me a lot and she always takes care of me if I'm hurt and sad.
The children's names have been changed to protect their confidentiality.